Follow-up: Conflicting Gestalts
We have all seen the classic Gestalt pictures that contain two possible readings -- the old-young woman, the up-down staircase, the drawings of Escher. This phenomenon is known as the Gestalt shift. Here is a Gestalt diagram that can be read as either a staircase seen from above, or a staircase seen from below: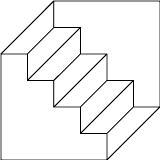 Reading it as above or below requires shifting between two competing interpretations of the same kind. You can't see the diagram both ways at the same time.
Here is a drawing I created that contains two competing Gestalts, but which works in a different way: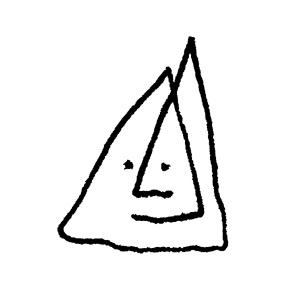 Instead of two "cognitive" Gestalts, this drawing at once appeals to the viewer to close the triangles, and at the same time to complete a face.
It seems to me that these two Gestalts come from different parts of the mind, which allows them to compete with one another, and to alternate, much more closely than the staircase diagram. Interpreting a set of cues as a human face is an activity that may be much more primitive and deeply embedded than the cognitive construction of abstract figures like triangles (or staircases). The mind's attempt to complete the two competing Gestalts gives the drawing an unexpected livelness.
The result, I think, is funny -- humorous, delightful -- in the kind of humor described by Arthur Koestler that is based on setting the expectation of one context, then shifting to another.
Besides, don't you just feel like that drawing some days -- not exactly a whole person, but inexplicably still yourself?
--Gerald Grow
longleaf.net/ggrow
Oct. 9, 2004